Support the New Kitchen in the Hare Krishna temple
The temple in Copenhagen is about to renovate its kitchen and needs your support.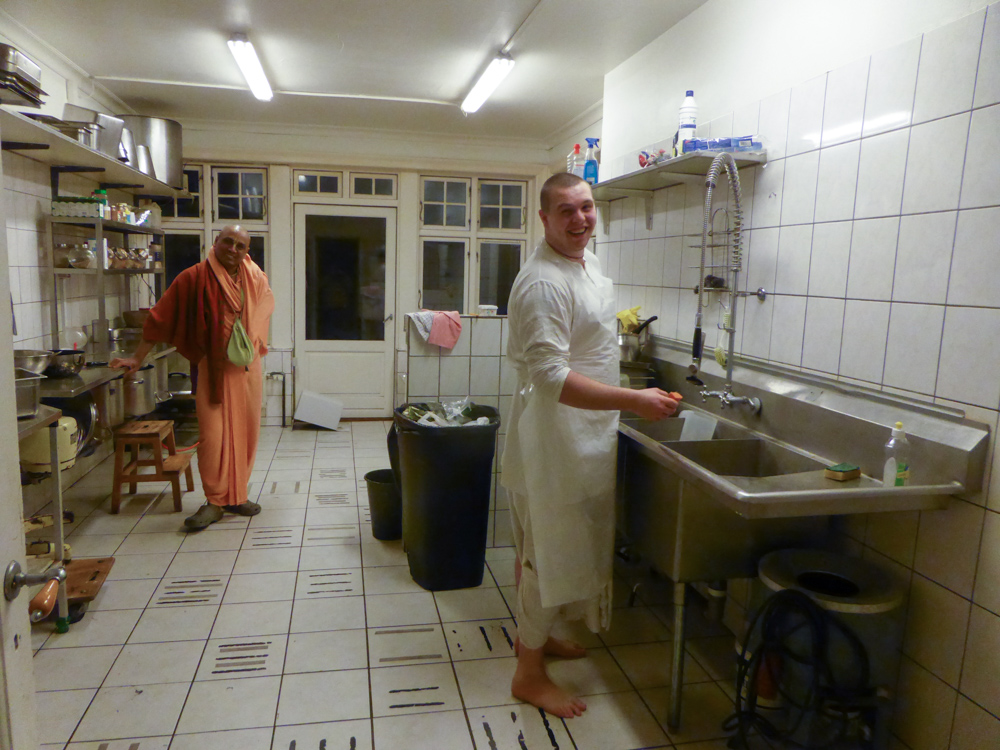 The kitchen is a pivotal point in any Hare Krishna temple. Here food is being prepared to be offered to Lord Krishna and afterwards served as prasadam to devotees and guests. This is also true for the Hare Krishna temple in Copenhagen whose big and wonderful kitchen was built 15 years ago by the devotees themselves with little funds. The kitchen has been and is still being used on a large scale. Many hours are spent here every day. Aside from the temple's regular inhabitants, prasadam is being prepared to at least 150 people every week, at big festivals it is a lot more, sometimes big amounts are being cooked for events at other places, and a lot of the school classes visiting are also treated to wonderful prasadam. For many the prasadam is the most memorable thing from their introduction to Krishna consciousness.
All this activity has left its mark on the temple's kitchen which is now in urgent need of an extensive renovation. Especially a new floor is needed. This includes new installations of drains, electricity and gas. A new ventilation system is also needed, and while we are at it, it makes sense to rebuild the kitchen so it is more practical to work in. Some of the present machines and equipment can be reused in the renovated kitchen; at the same time there is need of new refrigerators, various professional kitchen machines, shelves and cupboards, etc.
The adjoining storeroom will also have to be rebuilt, just at it makes sense to renovate the adjacent bathroom and extend this with a shower room. All in all, this will be the largest single renovation in the temple since it was established 15 years ago. The kitchen will have to be completely closed down part of the time. Thus the budget also includes a temporary outdoor kitchen, so the temple won't have to shut down completely in the renovation period.
Presently the estimated budget is as follows:
new kitchen floor: 70.000 kr.

plumming: 25.000 kr.

gas installations: 5.000 kr.

electrical works: 15.000 kr.

ventilation: 10.000 kr.

gas equipment (nozzles for stoves, etc.): 5.000 kr.

refrigerators: 10.000 kr.

new machines: 20.000 kr.

sinks and tables: 5.000 kr.

shelves, cupboards and renovation of the storeroom: 10.000 kr.

renovation and extension of bathroom: 20.000 kr.

temporary outdoor kitchen: 5.000 kr.
All in all, this adds up to
200.000 kr.
At present the temple has received or been promised around 130.000 kr. A big thanks to all of you who have already contributed. We are completely convinced that with the help of the rest of you, we can create a kitchen that the temple can benefit from for years and generations to come.
Donations to the kitchen renovation can be put into the temple's bank account (reg. 2128, account 6881 118 945), paid via MobilePay (5383 1108), handed over to the temple's devotees or placed in the temple's donation box. Please write 'Kitchen donation' on your payment.
Please remember that you'll receive both material and spiritual benefit from your donations. Materially all donations to ISKCON in Denmark are tax deductible. Spiritually if you help build a Visnu or Krishna temple, Lord Krishna will be eternally grateful and bring you back home to Vaikuntha.
Thanking you in advance! Hare Krishna.
Lalitanatha Dasa, temple president for ISKCON Copenhagen